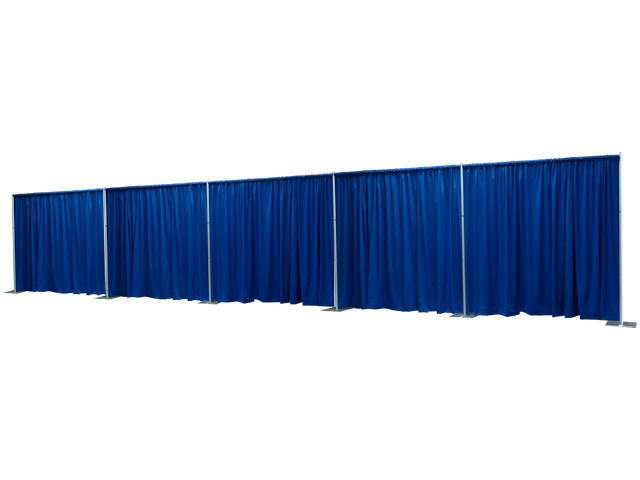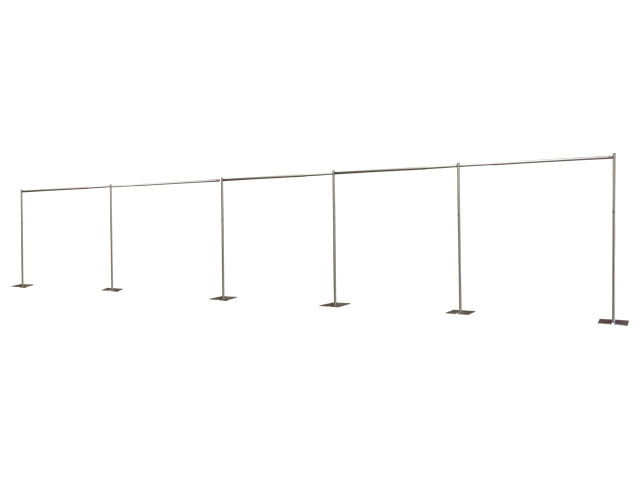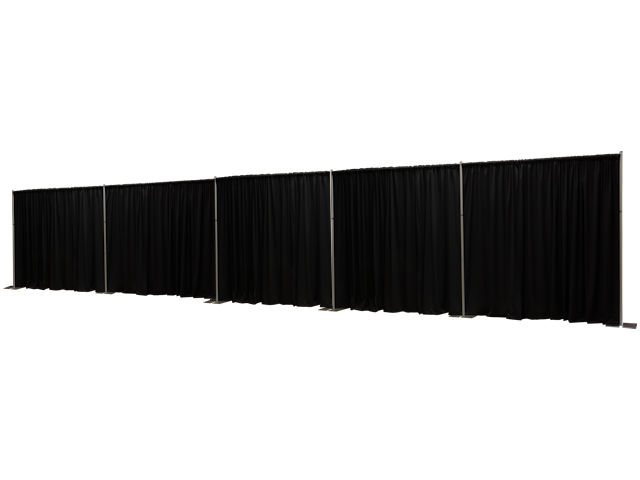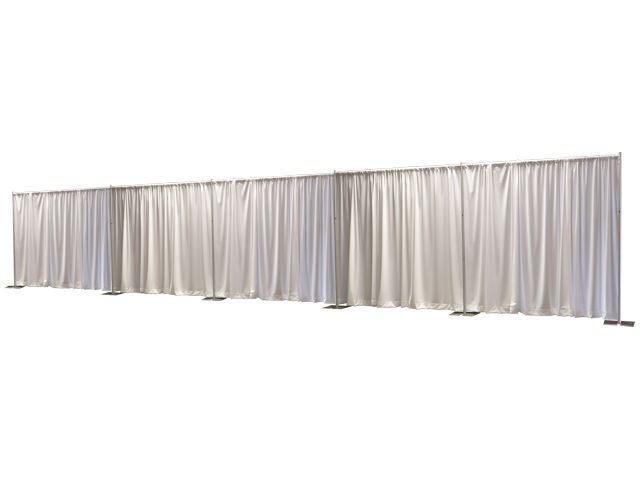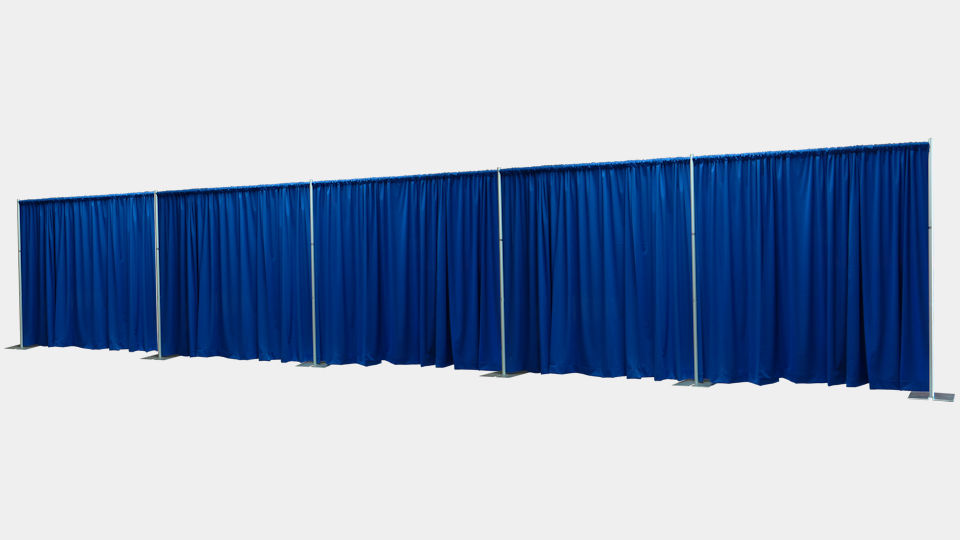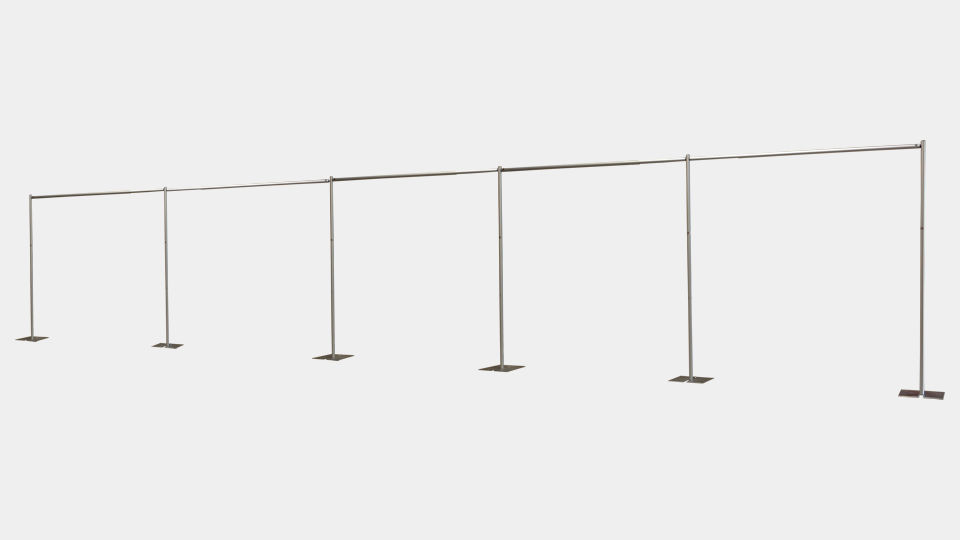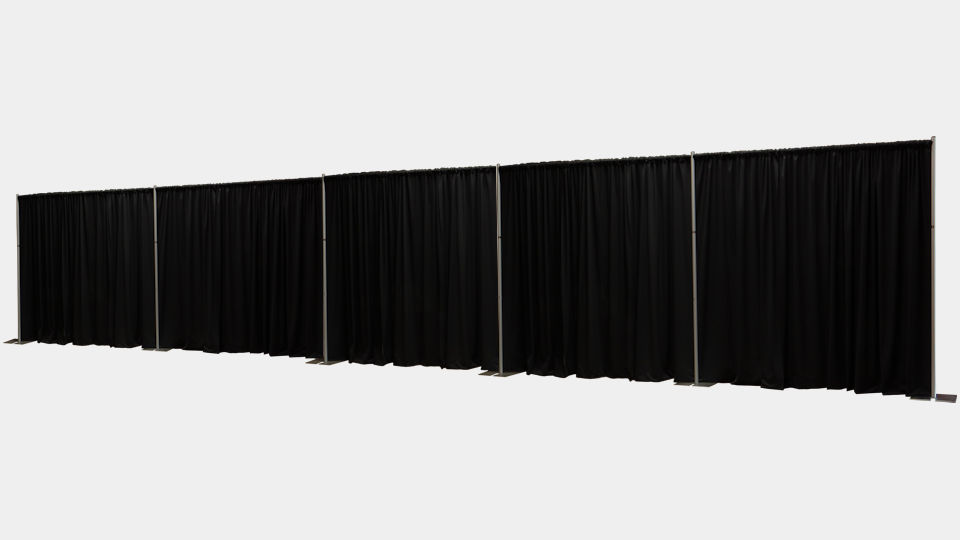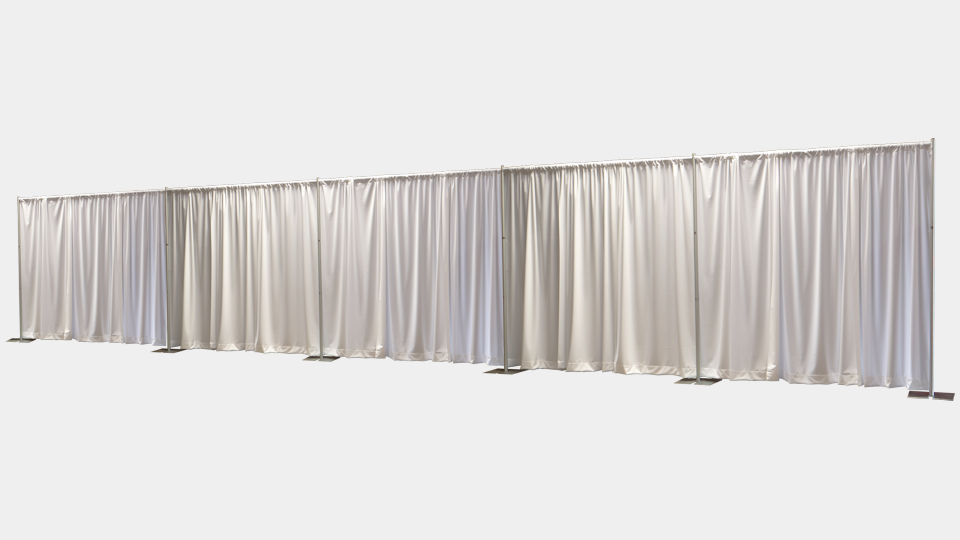 50' x 8' Backdrop Kit
Single pipe and drape package covers up to 50 feet floor width in 10 foot increments. Fixed height at 8 feet.
Description
50' x 8' Backdrop Kit
The 50ft wide by 8ft tall Pipe and Drape Kit is a mainstay for dividing large rooms, masking long runs, and creating event spaces.
Economical yet providing plenty of flexibility, the 8x50 Kit is a great all in one solution.
Fixed in height at 8 feet, with adjustable 6 to 10ft sections.
Drapery rods have button stops at 8 and 10 feet, but can still be used at any width in its range.
Sections can be broken up into 3 freestanding 10ft wide runs, or many other combinations.
Drape options include our Premier Drapery Fabric and Traditional Banjo Fabric.
Also available with Umbra Blackout Drapes.
Standard Aluminum or Black Powder Coat Finish Bases and Uprites. (Drape Rods remain silver)
Create a straight 50 run, or make 90 degree turns at any uprite.
The OnlineEEI Pipe and Drape System is modular, so additional kits or components can be purchased to extend your backdrop.
Generally ships within 1 business day!
Package Contents
Pipe Choices

5 Adjustable Aluminum Drapery Rods (6-10 foot)
6 Aluminum finish or Black Powder Coat finish Uprite Posts (1½" O.D. X 95" high)
6 Zinc Plated Steel finish or Black Powder Coat finish Base Plates (14" X 16", 12 lb)

Drapery Choices (Optional)

15 Panels Premier Fabric Drape (60" wide x 95" high)
Or 15 Panels Umbra Blackout Drape (60" wide x 95" high)
Or 15 Panels Banjo Drape (48" wide x 95" high)
Or 15 Panels Velour Drape (54" wide x 95" high)

Care Instructions

Premier, Umbra, and Banjo fabrics are machine washable. Use mild detergent, cold water, and tumble dry on low.
For best results, remove promptly from dryer and roll onto a core, or fold.
Steaming is a great option for removing fold lines or wrinkles in drapery, they fall out like magic!
Premier, Umbra, and Banjo fabrics are 100% Polyester, FR certified.
Velour drapery is 100% Cotton and requires dry cleaning if soiled.
Please feel free to contact us for personalized FR certifications after ordering.

Assembly

No tools required
Kits set up and break down in minutes.
It can be assembled with one person, but two or more is even better.
Contact us with any questions!
Uses
So versatile! Once you have this all purpose decorating equipment you will be amazed by the dozens of uses you'll find!

Backdrops
Behind Head Tables
Stages
Registration / Demo Tables
Photo Shoots
Media Interviews
Multimedia Presentations
Holiday Celebrations & Events
Masking
Hide unsightly walls and objects
Prep Areas
Construction / Utility Areas
Block Window Light
"Run Off" drape from stages or screens
Room Dividing
All types of events and functions
Dressing Rooms
Haunted Houses / Santa etc.
Exhibit / Fair Booths
Crowd Control
Create tunnels, chutes or aisles
Direct Foot Traffic
Area Barriers
Celebrity / Performer Cordons
QBK 10ft Expansion Section
For Use with Quick Backdrop Kit Only
Will not work by itself or with other kits
1 Adjustable Drapery Rod (6-10 foot)
*Standard Aluminum Finish
1 Uprite Post (1.5" O.D. X 95" high)
*Aluminum or Black Powder Coat Finish
1 Base Plates (14" X 16", 12 lb)
*Zinc Plated Steel or Black Powder Coat Finish
3 Panels Premier Fabric Drape (60" wide x 95" high)
Or 3 panels Banjo Fabric Drape (47" wide x 95" high)
Or 3 Panels Velour Fabric Drape (54" wide x 95" high)
Quick Backdrop Kit Carry Bags
Easy transport and storage of pipe and drape kits
Reinforced Nylon Duffel style hand grip straps
Holds up to 4 14x16 in base plates
One Base Bag per QBK kit recommended
Pipe Bag holds up to 20 Uprights and Crossbars up to 8ft long
NOT for use with 9-16ft Tall Adjustable Backdrop Kit
Step and Repeat Backdrop Kit
Red Carpet Style Framework
Commercial quality step and repeat framework (no fabric)
Unique Rod-Pocket crossbars allows nearly any fabric (not included) to be stretched taunt
Aluminum and steel framework provides maximum stability and professional durability
Kit components fit comfortably in the included handy carrying bag
All pieces break down to 4 ft or less for easy transportation and storage
Framework only kit (does not include printed fabric or any other fabric)
7ft 10in in high, adjustable from 8 to 10 ft width
Convert Portable Backdrop Kits into Step and Repeat Photo Backdrops
Economy Satin Table Skirts
Silky Sheen for All Occasions
29" High X 14ft, 17ft or 21ft lengths
Mini-Accordian (Tradeshow) Pleat
Sewn-in velcro header mates with plastic table edge clips (3/4" clips included!)
NFPA 701 compliant and CA Fire Marshall. Fire retardant certificates available upon request
Machine Washable
Bases
8"X14" and 14"X16" bases slotted for easy storage
8in x 14in base for 3 ft uprights only. Use larger bases for taller uprights.
Zinc Plated Steel or Black Powder Coat Finish
Removable pin (included) holds upright securely
1.5 inch Pin for Fixed Height Uprites
2 inch pin for Adjustable Height Uprites
Order Base Weights below for more stability
Velcro Attachment Clips
3/4", 1", and 2"
Be sure to measure the thickness of your table lip.
3/4&quot' thick x 1-1/2" wide
Fits standard 3/4" & 5/8" Table Tops and Samsonite Samson Series
1" thick x 1" wide
Fits table tops between 1" & 1-1/2" thick
2" thick x 1-1/2" wide
Fits 2" thick table tops and Plastic tops (Lifetime etc. )